Jay-Z & Meek Mill Launch Prison-Reform Alliance — Get All The Details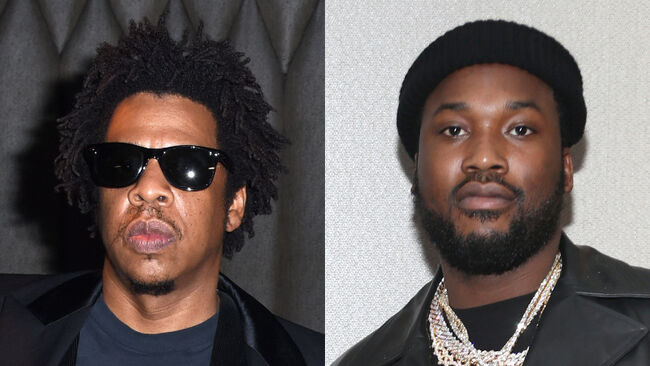 Jay-Z and Meek Mill have joined forces to fix America's broken judicial system.
The rappers turned social activists announced on Wednesday (January 23) that they along with Patriots owner Robert Kraft, 76ers co-owner Michael Rubin, Nets co-owner Clara Wu Tsai, and more have launched the Reform Alliance, an organization dedicated to prison reform with a goal of releasing at least one million people who are currently in the system within the next five years, Vulture reports.
In a press conference on Wednesday, the group of men announced that they've pledged $50 million to reach their goal and hired policial commentator and activists Van Jones as their CEO. Meek also addressed the audience, detailing his time behind bars, and specifically his infamous imprisonment last year, where he was sentenced to two-to-four years in prison after against recommendations from both his parole officer and the district attorney. "Every time I started fulfilling my life [within] the music industry, every year or two, there was always something that brought me back to ground zero because of probation," Meek explained of his over a decade spent in the system. "I always wondered what happened to the people in situations worse than mine... I'm one of the lucky ones. I'm here to speak for the ones who don't have a voice. I didn't ask to be the face of reform, but I want to bridge gaps and make the world a better place, especially for my culture."
Jay-Z also added to the conversation, speaking about his experience with the bias American prison system. "This is how we grew up. We're all prisoners to this. Until everyone's free, no one's free," he said before discussing how broken households are a huge factor behind distrust in authority, which in turn can lead to a life in the system. "Your father's gone so you're like, 'I hate my dad. Ain't nobody tellin' me what to do,'" he explained. "Then you hit the street and run into a police officer and his first thing is 'Freeze! Put your hands up! Shut up!' You're like — excuse my language — 'F**k you!'" The system, he added, is designed to then prey on that disadvantage. "That interaction causes people to lose lives. If someone commits a crime, they should go to jail. But these things are just disproportionate and the whole world knows it. A lot of these [laws] are in place now because elected officials run on them. I'm just saying the honest truth … It's a humane issue."
Photo: Getty Images