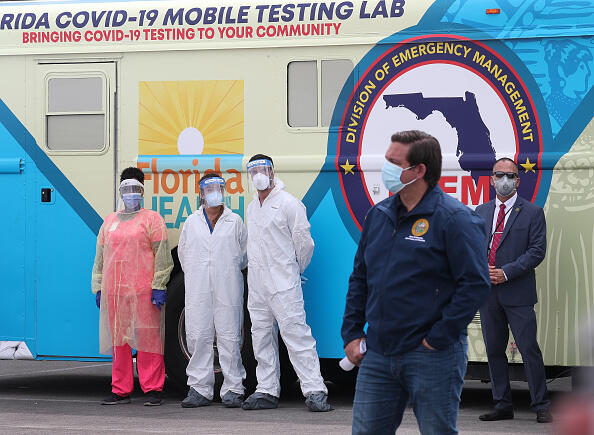 Details on 2,017 deaths from coronavirus in Florida were released.
The reports show the dead ranged in age from 26 to 104 and were predominantly elderly. A third of the victims were diabetic. Twenty-seven were under the age of 40, most suffering from preexisting health problems. South Florida accounted for more than half the dead.
Although the precise death rate of COVID-19 is still being studied, there's no doubt that the vast majority of victims survive. That makes it important for medical professionals and the public to know what factors could be affecting those who die.
Diabetes and hypertension, or high blood pressure, are two factors that worsen cases of the disease. The reports showed that South Florida's three counties accounted for 55% of the victims, with more than one-fourth of the total coming from Miami-Dade County.
The youngest victim was a 26-year-old Miami-Dade man who suffered from alcoholic cardiomyopathy, a form of heart disease caused by alcohol abuse. The oldest was a 104-year-old woman in Escambia County who died of COVID-19-related respiratory failure and pneumonia.
The most common health problem was obesity, followed by diabetes and hypertension. Several had more than one of these.
Diabetics faced an increased risk, including their greater vulnerability to infectious diseases and the likelihood that they may already have other health problems.
Twenty-nine of the fatalities occurred among people who had previously self-isolated, either at their own initiative or at the direction of a doctor. Some of these later were admitted to the hospitals; others were found dead at home.
Of all the listed Miami-Dade deaths, only nine of them note that the person had recently traveled. Of those nine travel cases locally, six of those to eventually die of COVID-19 had traveled to New York.
Gov. Ron DeSantis promised in late March to clamp down on people fleeing from the New York City region amid the growing coronavirus outbreak. He vowed that law enforcement and the Department of Health would meet people at the gate when they got off planes, and people would be expected to self-isolate for 14 days.
Most of those who died traveled to New York in March.
Photos by Getty Images