Rob Kardashian's New Flame Alexis Skyy Won't Meet His Kid For This Reason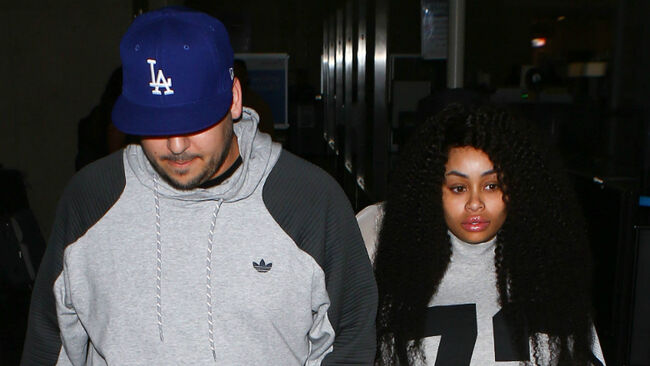 Blac Chyna does not have much faith in Rob Kardashian's new relationship.
According to TMZ, Rob's former fiancee, whom he shares a daughter with, believes his rumored new girlfriend Alexis Skyy will never meet their baby girl Dream. While Chyna is said to have multiple reasons to feel this way (we'll get into all those a bit later), the number one reason she thinks Dream and Alexis will never meet is that there's actually a rule in place to prevent it. Sources told the gossip site that Chyna and Rob actually have an agreement to not introduce any significant others to their daughter within the first six months of dating. And since Chyna reportedly believes Alexis and Rob are not actually into each other (she is said to believe Alexis is only with Rob for clout) they'll never last the six months for Rob to even make the introduction.
As fans know, there's no love lost between Chyna and Alexis. Earlier this month, Rob declared Alexis is "WCW" less than 48 hours after she and Chyna got into a fight about Rob at a Los Angeles house party last weekend. While Alexis initially claimed that Chyna randomly threw a drink on her at the party, multiple sources recently told TMZ the ladies' relationship with Rob was actually at the center of their drama. Insiders connected to both women told the gossip site that Chyna "did not simply invite Alexis over for a friendly chat" during the party. In fact, the true meaning behind the former reality star's desire to speak with Alexis was to set her straight about her past interactions with Rob. Chyna apparently felt that some of Alexis' behavior during Chyna and Rob's relationship was inappropriate, and she finally wanted to clear the air.
Shorty after their fight, Rob made his allegiances known by declaring Alexis is "WCW," and he additionally shared photos and videos of Alexis making him dinner. And while he was accused of hanging out with Alexis to spite Chyna, Rob defended his relationship with the reality star on Twitter, saying, "Me and Alexis known each other for 5 years so stop with that."
Alexis has also had to defend her relationship with Rob. Most recently, the Love & Hip Hop reality star epically clapped back at Chyna's new boyfriend, rapper Kid Buu, after he questioned her motives for hanging out with Rob. "You really wit robs fat a** for love or is it just for clout?" he commented on an Instagram photo of Alexis getting out of a car. Alexis then shadily responded by questioning his relationship with Chyna, adding, "to answer your question…I love rob."
Photo: Getty Images